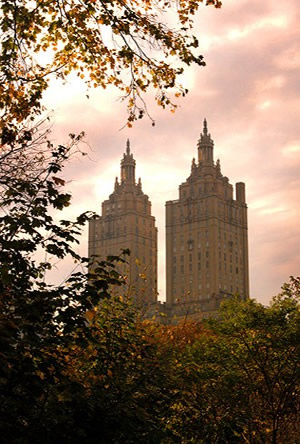 Welcome to The San Remo Condominium Website
If you are a Homeowner or Resident of The San Remo Condominium and visiting this site for the first time, you must register and sign in to access the resident services section and take advantage of the resident classifieds.
About The San Remo Condominium
The San Remo at 145 & 146 Central Park West is considered one of the most prestigious addresses and beautiful buildings in all of Manhattan. The Emery Roth masterpiece is located in the Upper West Side between 74th and 75th Streets. Even with the high luxury standards of the Upper West Side, especially Central Park West, the San Remo shines
The Beaux-Arts exterior of the San Remo is one of the most stunning and recognizable in all of the city. Two soaring twin limestone towers reach upwards 10 stories from a bold 17-story base. Inside, residences at the San Remo are generously large, with many of the 136 units boasting floor plans over 2,500 square feet and some including terraces. The building was converted into a co-op in the 1970's, and during that time it was refinished with modern fixtures and appliances.
Residents of the San Remo have access to the finest luxury amenities and white-glove service, including a 24-hour doorman and private and semi-private elevator landings. The health club at 145 Central Park West is state-of-the-art, and residents have access to a community room. The park views from the San Remo are some of the best in the city, and being steps away from the Upper West Side's best restaurants, boutiques and, of course, Central Park, truly makes this luxury building one of the most unique in New York City
Apartments for Sale in The San Remo Condominium
| Price | Beds | Baths | Sq Ft |
| --- | --- | --- | --- |
| $9,000,000 | 2 BD | 3 BA | |
| $16,000,000 | 3 BD | 3 BA | |
| $17,950,000 | 4 BD | 4 BA | |
This pricing is approximate and should be used for informational purposes only, although it has been copied from sources deemed to be reliable.
If you are interested in apartments in the The San Remo Condominium call 212.390.1908 for further information.